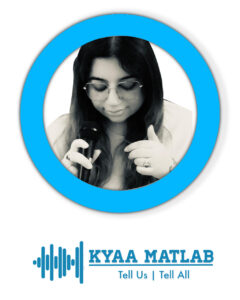 Rashi Khanna is the FOUNDER & CEO of KYAA MATLAB and has been a focused business professional with a  vast journey for over 20 years now. Rashi is a Mother I VLOGGER | Podcaster I Digipreneur I Empath IArtist | social activist I coach I women leader | communications specialist I sales strategist I incubator. Her success lies in the honesty & dedication she has towards her work and has helped many businesses built over the years. Her early stint in the corporate sector has given her a large exposure which made her business values more stronger.She has been accoladed with many Awards and Community Service Recognitions and has been featured on many platforms.
Shiva Chaudhary is the Outreach Executive of Ra by Rashi Foundation and IT Manager of KYAA MATLAB. He is a student at Christ University, Bangalore | Digital Marketer | Website Developer | Graphic Designer | Video Editor | Outreach. He is a student who took a Gap year after his 12th Standard, which allowed him to enter the IT industry. Working at a very early stage helped him in gaining a lot of exposure prior to college.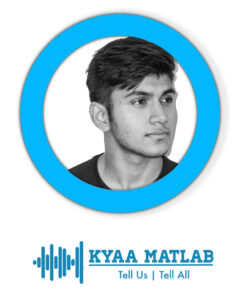 MISSION & VISION : KYAA MATLAB
Get heard. Speak up. Vent out. Be the voice you want the world to listen to. Kyaa Matlab is your sounding board where you can share your thoughts, opinions, feelings and let the world know that you MATTER.
We are your friendly neighbour with whom you can pour your heart out, a true friend who patiently listens and channels your thoughts in the right direction.We have different streams of content where you can lend your voice, give opinion and discuss on any and every topic under the sun.
So what are you waiting for? Kyaa Matlab? Mic on!
Disclaimer! Kyaa Matlab ,much like other digital platforms that informs and inspires ,will use text, photos videos and audio to present rich content on various subjects ,hence all the video & audio content on various subjects from sports, environment to entertainment ,business stories to spirituality-shall be used by self and third party promotional content.