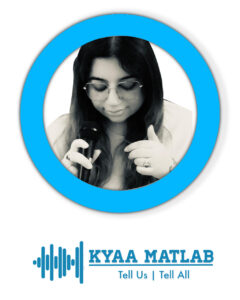 Rashi Khanna, an empath, is the CEO and founder of KYAA MATLAB NETWORK and has over 25 years of experience. Rashi is a NIMHANS-certified Lady Counsellor, as well as a competent podcaster and speaker. Rashi has given podcasting seminars at a number of management conferences and institutes, including the Indian Institute of Management (IIM). Furthermore, her podcast workshops on BookMyShow sell out faster than one can blink. Rashi is the Honorary Chair of the Ra by Rashi Foundation, an NGO that helps SMEs and micro-businesses through Business story video features. She is building her e-magazine "SHEERAA," which offers unique business stories from visionaries and strives to change the world.
As a podcast production firm, KYAA MATLAB NETWORK has demonstrated expertise for businesses or individuals to outsource their podcast creation to a team of specialists led by Rashi. To keep listeners interested, Kyaa Matlab allows you to podcast your beliefs, and feelings on a variety of topics such as money, youth, astrology, stocks investing, mindfulness, beauty, SME solutions, spirituality, poetry and shayari and much more.
Shiva Chaudhary is the Outreach Executive of Ra by Rashi Foundation and IT Manager of KYAA MATLAB. He is a student at Christ University, Bangalore | Digital Marketer | Website Developer | Graphic Designer | Video Editor | Outreach. He is a student who took a Gap year after his 12th Standard, which allowed him to enter the IT industry. Working at a very early stage helped him in gaining a lot of exposure prior to college.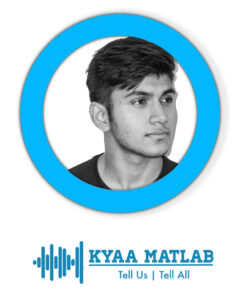 MISSION & VISION : KYAA MATLAB
Over the years, it has been observed that people's attention spans has decreased but KYAA MATLAB NETWORK has successfully reached out to a million souls helping them curate, enhance and control their ever-growing perspective about life in just five minutes podcasts.

There are so many moving pieces in producing a high-quality podcast, and the expertise at KYAA MATLAB NETWORK as a podcast production house has illustrated that it is most viable for businesses or individuals to outsource their podcast production to a team of experts and focus on the important nuances instead.
Elements of podcast production that carries words to success is taken care of by use of the offerings, which include standard intros and outros creation, strategy development, equipment counselling, show preparation, artwork, guest arrangement, and digital audio production and editing.

Kyaa Matlab allows you to share your thoughts, beliefs, and feelings on range of subjects, including money, youth, astrology, stocks investing, mindfulness, beauty, SME solutions, managing, mentoring, spirituality, healing, motivating, poetry, and shayari, in order to keep listeners interested.
Currently, Kyaa Matlab provides podcasts in a variety of categories, such as "Anubhav," which allows elders to revisit long-forgotten dreams through podcasts. "Jadi Buti" provides a platform for kids to discuss their interactions with mythology and the natural world. The "Brand podcast" section isn't only promotional but also ties with the brand's messaging. These brand podcasts follow the company's objectives and have the same storytelling elements as other podcasts.

A collective of podcasters and content producers known as Kyaa Matlab can be found on a number of online audio streaming services, such as Kyaa Matlab website, Spotify, Amazon Music, JioSaavn, Apple Podcast, and Google Podcast. It is active on a number of social media sites, including Facebook, Instagram, YouTube, and LinkedIn.
We are your friendly neighbour with whom you can pour your heart out, a true friend who patiently listens and channels your thoughts in the right direction.We have different streams of content where you can lend your voice, give opinion and discuss on any and every topic under the sun.
So what are you waiting for? Kyaa Matlab? Mic on!
Disclaimer! Kyaa Matlab ,much like other digital platforms that informs and inspires ,will use text, photos videos and audio to present rich content on various subjects ,hence all the video & audio content on various subjects from sports, environment to entertainment ,business stories to spirituality-shall be used by self and third party promotional content.